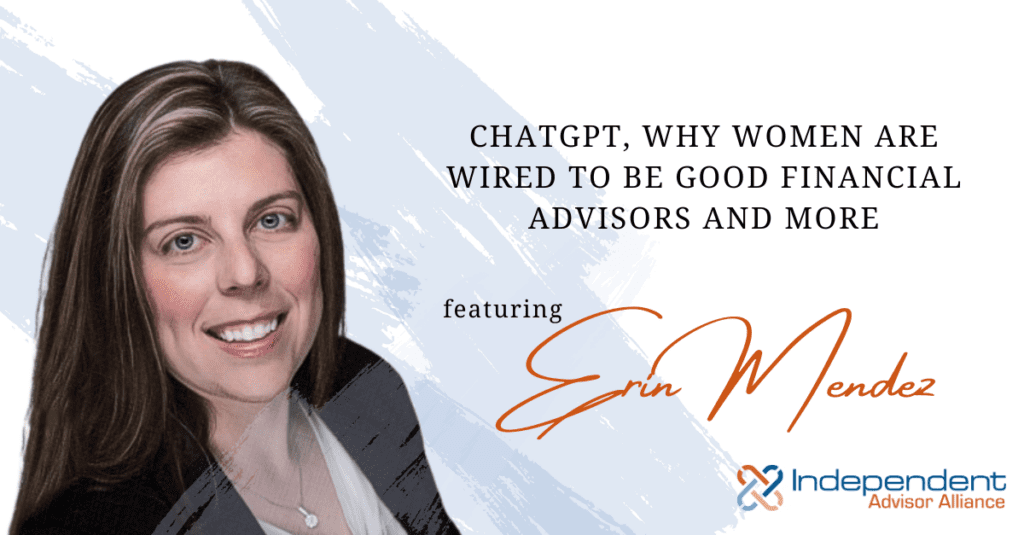 Erin F. Mendez, CFP®, CLU®, CDFA®, APMA® is a partner and financial advisor with Liberty Point Advisors. This holistic planning firm manages more than $250M in AUM and provides concierge financial planning services to 250 clients. With more than 15 years plus experience in the financial services industry, Erin has achieved her level of success and depth of knowledge through ongoing education and holding every position in her office.
In a conversation with IAA from her office in Vineland, NJ, we discussed everything from philanthropy and wealth planning to why women's representation in the financial services industry is still so low to her take on AI and ChatGPT.
What motivated you to become a financial advisor?
My parents own a small business, and growing up, I remember them coming home and having general discussions about money. One year they decided they would let us use the money we received from some birthday and holiday gifts to buy a stock we were interested in. I love reading, so I decided to purchase stock in Borders. I held on to it, and ultimately, the company filed for bankruptcy and my stock became worthless. Thankfully my cost basis was minimal but that was my very first foray into the stock market and peeked my interest in investing. Lesson learned, consider not putting all eggs in one basket!
Also, my family wasn't always as financially secure as other people, and it made me wonder, why? What were other people doing differently? And I think that's really why I became an advisor. To be able to talk to anyone and provide true and honest advice so they can be that person who is financially secure. It comes back to the millionaire next door. Everybody can be comfortable.
Under-representation of women in financial services is an ongoing topic. Why do you think this issue persists?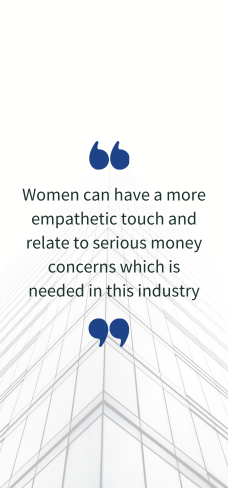 My perception is that at a young age, as a female, becoming a financial advisor is not a profession that anyone says you should do. In college, there were not a lot of women in my economics and finance classes. They were there, but not to the same extent as the men, and I'm not even sure any of them went on to be an advisor. It's just not usually an option that's presented to women.
Counselors don't suggest Financial Advisor as a career. It's always, why don't you be a teacher or a nurse. We need to change that perception and add it as a viable career path. Women can have a more empathetic touch and relate to serious money concerns which is needed in this industry. Clients want to work with someone they like, who remembers their family member's names, where they went to school, or the last time you had a conversation. Because of that, I think women are generally wired to be good financial advisors.
In addition, this career provides much more flexibility with time, especially since I have children, that may not be available in other fields of work.
There is a lot of talk right now about AI and ChatGPT. What are your thoughts on this topic, and do you foresee any measurable impact on the profession?
Technology has a huge impact, and if it's a time saver, I'm all for it. But the idea that ChatGPT can be used for diagnosing or will replace advisors? No. Take the current market as an example. You need an actual human being to tell you what's going on in the market right now is not necessarily a trend but more a fear, and it's not the time to trade. Algorithms and AI can't differentiate between a trend and a volatility. You will always have to have that human aspect.
People often don't consider philanthropy part of their wealth planning, but your firm has a lot of experience with charitable giving and estate planning. What do you think is the most common misconception people have about this topic?
Our mission in the practice is to provide and discuss Life, Liberty, and Legacy with each client. Philanthropy lands in the Legacy area of discussion. There are a few ways we suggest to our clients who are interested in charitable giving. Those that write checks or those that would like to make a bigger impact. The bigger impact clients, we can discuss trusts, foundations or donor advised funds. We provide different options and evaluate each suggestion in regard to set up, upkeep and any tax advantages.
What's nice about our firm is that we show our clients by example that our personal dollars go to charitable organizations as well. Our firm is very charitably involved, and I personally serve on several boards, including Big Brothers and Big Sisters of Cumberland and Salem Counties.
You have several certifications, including your CDFA. How different is your approach to financial planning for clients in their pre-divorce process?
Our overall goal for the practice is to provide an all-around experience for our clients. 50% of married couples get divorced so there is a chance one of our clients will need this sort of expertise.
The approach to this type of planning is different with each case as each client may come to the office in a different phase of their divorce. Some maybe just starting to file while others are at the end and need a place to invest their assets.
Sometimes they just need somebody to talk to and figure it out, and that's usually what happens. I'm not an attorney and can't advise them on how to file for divorce, but I explain to them that this is what they need to do for their finances. They need to figure out how much they need to live, their expenses, and write that down. And I explain that they will be providing that info to their attorney, who will provide it to the judge when they have their case. I help them put a budget together, explain the rules in the state of NJ, and how the process goes. The sooner they do this and the better they're organized, the faster the process will be. It's more about educating them than helping them get divorced.
More About Erin….
When she's not working with clients, Erin is a voracious reader and a loyal fan of Philadelphia sports teams. She loves spending time with her family, which includes her husband, two children, and their 13-year-old Lab Pitt mix rescue named Shelbii. Erin also moonlights as an unpaid but dedicated chauffeur, driving her kids between softball, soccer, and dance.
To learn more about Erin and her practice, follow her on LinkedIn or visit Liberty Point Advisors.


*This conversation has been edited for length and clarity.